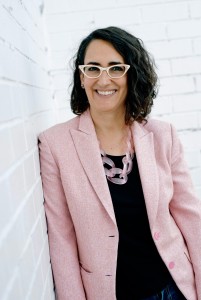 Lauren Brownstein has been working in philanthropy for 30 years as a fundraiser, educator, program manager, and administrator. She helps non-profit organizations, philanthropists, and grant makers achieve their goals through PITCH, LLC, her fundraising and philanthropy consulting practice. She is the author of Be Well, Do Good: Self-Care and Renewal for Nonprofit Professionals and Other Do-Gooders, a
Barnes & Noble Bestseller.
She has raised millions of dollars for workforce development programs, museums, student support organizations, women's causes, community centers,
international groups, associations, and more. Her areas of expertise include: foundation relations, development planning, and staff and board training. Lauren is known as a "master grant writer" and is adept at clean, concise, compelling writing that helps her clients' work leap off the page. She delivers learning experiences and trainings that are interactive, results-oriented, meaningful, and fun, drawing on her background in experiential education and the arts.
Lauren has led numerous workshops to help individual donors define their philanthropic goals and create charitable giving plans that reflect their values, passions, and priorities. She also has managed the grant making process for a small nonprofit and is a Certified Consultant with 21/64, an organization devoted to advising family philanthropies and intergenerational giving cohorts.
As a reflection of her commitment to philanthropy and volunteerism, Lauren has served on the boards of several nonprofits and has volunteered extensively in the community, including eight years as a weekly volunteer at the Lombardi Comprehensive Cancer Center at MedStar Georgetown University Hospital. She was a certified foster parent before adopting a child from the foster care system.
Whether teaching yoga, journaling, meditating, crafting, traveling internationally, laughing with friends, or lacing up her sneakers to take a long walk, Lauren is committed to cultivating calm and finding inspiration. She earned a Masters in Teaching in Museum Education from the George Washington University (where she has served as a lecturer on fundraising) and a Bachelors with High Distinction from the University of Virginia.
Find Our Guest
Mentioned in the Show
600th Podcast Soiree
Balletcore Sneak Peek
Let's Connect
Receive inbox love through Love Notes: invites, inspiration, and more.
Browse my 6 Books and planner.
Follow along on Instagram and YouTube.
Shop seasonless, vegan, locally-made, eco-friendly fashion: TDJ by Kimberly.
Share a review on Apple Podcasts, Amazon, or Goodreads and you may hear it shared on the show.