Feb 21, 2023
In this week's celebratory edition of Tranquility du Jour, Tim and I share a peek into life lately, reflect on the past, and discuss the future.
I also offer a few reflection questions (see below), share how midlife is influencing my work, how planning (and prioritizing) keep me focused, give an update on my memoir, and more!
It was a joy to be with you live and I hope you will also enjoy this replay. Thank you for listening and growing up with me over the past 18 years of this podcast!
PS My apologies as there were so many of your thoughtful questions that we didn't get to. I'm happy to answer them in an upcoming podcast so stay tuned! x
Upcoming Events
February 21: Pet Loss Support Session
April 1: TDJ Style Spring Virtual Event
April 15: Seasonal Retreat Immersion
Video Interview
https://youtu.be/aZaq1DEHSuw
http://traffic.libsyn.com/hiptranquilchick/tdj597.mp3
Direct download: Tranquility du Jour #597: 2022 Year in Review
Subscribe in your favorite podcast app such as Spotify, Apple Podcast, Amazon.
Visit kimberlywilson.com/podcast for more.
New to Tranquility du Jour? Learn more here.
Mentioned in the Show
How has listening to the TDJ podcast impacted me?

How do I infuse tranquility into my day?

What do I picture for myself at the 650th episode (2 years)?

What's my big creative dream?
Tim and Gizmo showcasing our podcast set up below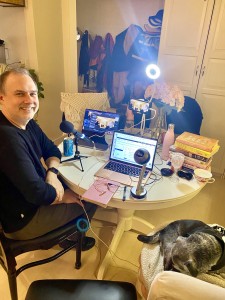 Let's Connect
Receive inbox love through Love Notes: invites, inspiration, and more.
Browse my 6 Books and planner.
Follow along on Instagram and YouTube.
Shop seasonless, vegan, locally-made, eco-friendly fashion: TDJ by Kimberly.
Share a review on Apple Podcasts, Amazon, or Goodreads and you may hear it shared on the show.