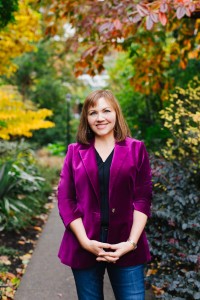 Angela Gargano is a mission-driven leader and serial entrepreneur with 20+ years of experience in creating brands in the diverse fields of wellness, beauty, wine and food. A certified sommelier, yoga instructor, beauty brand founder, and passionate environmentalist, her innovative work has been featured in the New York Times, Wine Spectator, Well+Good, and more.
The daughter of two chefs, Angela grew up in her family's restaurant developing her taste for the simple pleasures in life -- good health, food and wine. A certified sommelier, she worked in the wine industry for over two decades doing everything from getting her hands (and feet) dirty crushing grapes, to founding a women winemakers club, and acting as the wine director at one of the top resorts in the world. Then in 2005 her entrepreneurial spirit led her to create Bliss Flow Yoga, a welcoming yoga studio in Madison, Wisconsin. Over the course of the next decade, through curated programming, superior hospitality, and a commitment to excellence, Angela grew the studio from a shoestring operation to a thriving wellness business. Uniting her passions, Angela introduced the Yoga + Wine program, an innovative offering that got worldwide attention from prestigious publications and allowed her to host workshops and retreats in renowned destinations.
Angela's journey as an entrepreneur is defined by her ability to spot trends and her dedication to sustainable, empowering ventures. She embodies both warmth and strength, making her a remarkable force in the business world. Her latest endeavor, plastic-free skincare brand Lola Arnao, is a slow beauty brand designed especially for sensitive skin. Angela says " I've worked in a variety of industries — but all of the brands that I've worked on share one thing — they're all about making life's little everyday moments a bit more meaningful and memorable. Most importantly, I believe that businesses with a strong and meaningful purpose at their heart — to support our communities, empower women and support sustainability — are the future!"
Angela currently resides in the Willamette Valley of Oregon with her two horses, Espresso and Romeo.