Dec 6, 2021
In this week's edition of Tranquility du Jour, I chat with returning guest Christine Mason Miller about her new book, Notes from the Rocket. Hear the story behind the book, how a move and loss have shaped her, and ways to make your art—even if it's sporadic.
Direct download: Tranquility du Jour #570: Creativity & Change
Subscribe in your favorite podcast app such as Spotify, Apple Podcast, Amazon.
Visit kimberlywilson.com/podcast for more.
New to Tranquility du Jour? Learn more here.
Upcoming Events
Tranquility Coterie: Yearlong immersion into the TDJ lifestyle
New Year's Virtual Retreat: January 1, 2-4 pm ET
Guest
Christine Mason Miller is an author and artist who has been guiding others toward a meaningful life for more than twenty years. Her experience with writing, publishing, licensing, and teaching have established her as an experienced, compassionate authority on how to bring dreams to life, particularly those related to writing and publishing a book. Her online course, The Conscious Booksmith, has supported hundreds of aspiring authors on their book creation journey. Christine is the author, artist and illustrator of six books, each one distinctive and unique in its topic, scope, and design. Her most recent—Notes from The Rocket—is now available on her website.
A graduate of Virginia Tech and the University of Georgia, Christine's career began in 1995 with the creation of an independent greeting card line called Swirly. Over the course of a decade, Swirly evolved into an internationally known brand with more than 1200 retailers and clients that included Target, Barnes + Noble, JoAnn Fabrics, and the Girl Scouts of America. Swirly designs were licensed for a wide array of gift, stationery, and home decor items and an illustrated gift book translated into three languages. After shifting her creative efforts to original mixed media artwork, she organized and participated in over a dozen gallery shows and exhibits before launching her second gift and stationery line, The Christine Mason Miller Collection, in 2009, in collaboration with Demdaco.
Christine's work has appeared in numerous print and online publications such as Mabel Magazine, Bella Grace, Modern Creative Life, and Dharma Mamas. She has facilitated workshops and retreats at venues across the country, including Esalen Institute in Big Sur, was a speaker at the 2016 and 2018 Brave Girl Symposium, and was one of ten artists featured in Indie Kindred, a documentary film by Jen Lee about artistic collaboration.
Christine lives in Milwaukee, Wisconsin with her husband and their chocolate lab Tilda.
Find Our Guest
Mentioned in the Show
Christine's Latest Book: Notes from the Rocket
Previous Interviews with Christine:
#441 The Meandering River of Unfathomable Joy
#428 Transitions
#384 Moving Water
#235 Desire to Inspire
#153 Ordinary Sparkling Moments
Holiday Pop-Up Replay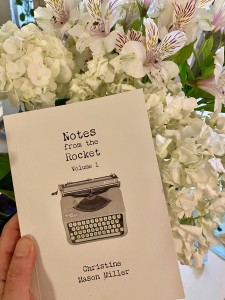 Let's Connect
Receive inbox love through Love Notes: invites, inspiration, and more.
Browse my 6 Books and planner.
Follow along on Instagram and YouTube.
Shop seasonless, vegan, locally-made, eco-friendly fashion: TDJ by Kimberly.
Share a review on Apple Podcasts, Amazon, or Goodreads and you may hear it shared on the show. Deets on kimberlywilson.com/review.