Dec 28, 2020
In this week's edition of Tranquility du Jour, I chat with Sammy Davis on the joy of thrifting, what's defined as vintage, and where to start.
Direct download: Tranquility du Jour #521: Sustainable Secondhand Style.
Subscribe in your favorite podcast app such as Spotify, Apple Podcast, Amazon, or Overcast.
Visit kimberlywilson.com/podcast for more episodes and the Tranquility du Jour Podcast App: iPhone and Android.
New to Tranquility du Jour? Learn more here.
Upcoming Events
TDJ Annual Pass.
New Year's Virtual Retreat on January 1 from 2-5pm ET. Join us.
TDJ Live on January 10 from 8-9pm. Join us.
Guest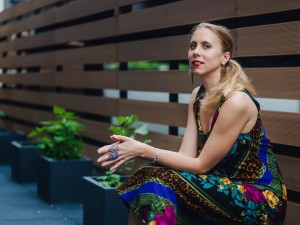 Sammy Davis is a busy New Yorker who quit a career in fashion publishing to launch a brand on all things secondhand fashion and resale in 2008. Since then, she's sold designer and vintage clothes at Brooklyn flea markets, operated a trendy NYC vintage boutique, appeared on national TV representing thrifting and sustainable style, and since launching the NYC Bargain Thrift Store Tour in 2018, thrifted with thousands of tourists and locals in and around New York City.
Sammy currently works as a resale coach, offering consulting and courses via a membership community called THRIFT BOSS BABES, which is a paid subscription marketplace where members buy & sell thrifted finds, all while learning how to level up their resale businesses. Her mission is helping people live their best lives in looks for less, while also contributing to a more sustainable world and being better stewards of their personal finances as "thrifters."
In October, Sammy co-hosted the first ever virtual thrift style conference, "The Heart of Thrift."
Mentioned in the Podcast
Find Sammy
Let's Connect
Join our TDJ Insider's Facebook group. Share resources, get inspiration, make connections, be part of the online book club.
Sign up for a 30-day trial of Audible and get your first book FREE.
Receive weekly inbox love through Love Notes: invites, inspiration, and more.
Browse my 6 Books and planner.
Follow along on Facebook, Instagram, and YouTube.
Shop seasonless, vegan, locally-made, eco-friendly fashion: TDJ by Kimberly.
Share a review on Apple Podcasts, Amazon, or Goodreads and you may hear it shared on the show. Deets on kimberlywilson.com/review.
Techy