Dec 21, 2020
In this week's edition of Tranquility du Jour, I chat with returning guest Mindy Tsonas Choi about her recent creation, Be Seen Project. Hear the evolution of her creative journey, why being seen is so important, and how she's on a mission to amplify BIPOC artivists and craftivists. Plus a chance to win these beautiful earrings!
http://traffic.libsyn.com/hiptranquilchick/tdj520.mp3
Direct download: Tranquility du Jour #520: Be Seen Project.
Subscribe in your favorite podcast app such as Spotify, Apple Podcast, Amazon, or Overcast.
Visit kimberlywilson.com/podcast for more episodes and the Tranquility du Jour Podcast App: iPhone and Android.
New to Tranquility du Jour? Learn more here.
Upcoming Events
TDJ Annual Pass.
New Year's Virtual Retreat on January 1 from 2-5pm ET. Join us.
TDJ Live on January 10 from 8-9pm ET. Join us.
Guest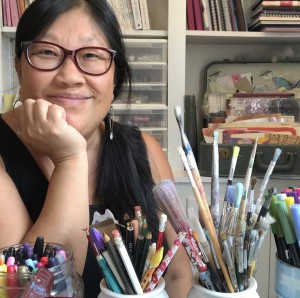 Mindy is a Korean American adoptee, queer intersectional feminist and modern day bohemian who works at the juncture of creativity, identity and social justice. She is a community builder, artist, activist, and is the founder of the Be Seen Project, a grassroots initiative helping to amplify and resource BIPOC artivists and craftivists. She believes in using our collective superpowers for positive social good and her goal is to create more liberation and love in the world. A crafty dabbler, she is also a life-long devotee to the underdog.
Mentioned in the Podcast
Find Mindy

Be Seen Project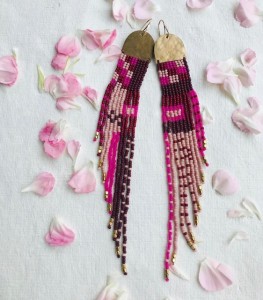 Donate $10 to support the Be Seen Project and be entered to win a pair of Lynzee's handmade
Brass Leah Earrings
(value $195) in this Rose colorway - Kimberly and Mindy's favorite color! If you donate $25 or more, you'll also be subscribed to BSP Zine.
Drawing on 12/28.
Let's Connect
Join our TDJ Insider's Facebook group. Share resources, get inspiration, make connections, be part of the online book club.
Sign up for a 30-day trial of Audible and get your first book FREE.
Receive weekly inbox love through Love Notes: invites, inspiration, and more.
Browse my 6 Books and planner.
Follow along on Facebook, Instagram, and YouTube.
Shop seasonless, vegan, locally-made, eco-friendly fashion: TDJ by Kimberly.
Share a review on Apple Podcasts, Amazon, or Goodreads and you may hear it shared on the show. Deets on kimberlywilson.com/review.
Techy